CCTV Systems for the Home
MBM Installations supply, install and maintain a wide selection of CCTV systems for your home…
New technology and advances in different fields such as mobile communications and Internet video streaming means there is now more choice than ever.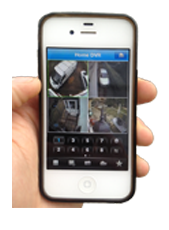 Prices have fallen dramatically meaning that systems are now in the reach of almost any budget. The result of this means that CCTV is increasingly incorporated as part of domestic security systems, often integrated with intruder alarms and access control systems.
MBM's CCTV systems can record images constantly to hard-drives (DVRs) allowing instant and easy access to the stored images, when combined with broadband and a router images from your home can be securely viewed via the internet on your laptop, PDA, iPhone or Blackberry from anywhere in the world.
One of our fully trained surveyors will survey your home or business to ensure you get a CCTV system that is right for you. All surveys are free of charge and as an independent installer we are free to choose the best CCTV products from the vast array of those available to us. Thus enabling us to provide a cost effective system to suit your needs.